Day 15: 7 min on the ROAD
San Francisco, CA
8.15

WHERE ARE YOU?

San Francisco, CA
WHAT'D YOU DO TODAY?

Greeted the sun early in the morning for round two on the Caltrain and make our way over to Mission District to interview the incredible Erik Marinovich at his shared studio space, Title Case. Erik's dedication to his craft and acknowledging the importance of making + creating in his life, and pursuing it patiently, tenaciously while also balancing this with his passion for his family + his role as a father, was so inspiring to hear. I definitely feel like I don't have a very clear grasp on the ~vibe~ of SF given our brief time here, but based on the (two) people we've interviewed in this city I'm just assuming that everyone in this city is just super awesome, super cool, super welcoming, super talented, super super.
I also loved that we were able to speak with two creatives dedicated to typography + letterforms back to back, and it was especially interesting to hear about how both Rod and Erik wished to explore and experiment with the physical/3D space with type.
After leaving Title Case (with many goodies in hand), we explored some places on Mission Street (quick recommendations by Erik, more deets ova on the right) and fell a little bit more in love with San Francisco.
After leaving the city, the mood dramatically shifted when we read/learned more about the violence that unfolded in Charlottesville, VA and I honestly don't know where to begin. I am both horrified and unsurprised by the manner in which the presidential administration is handling what had happened and appalled that these events of terror + violence are continuing to happen in America today.
HOW YAH FEELIN?

Today's been a day full of contrasting, crazy emotions, and while I am filled with so, so much inspiration, joy, and excitement from today's interview, it's been hard to fully grasp onto those feelings tonight with what's happening in Charlottesville.
sahm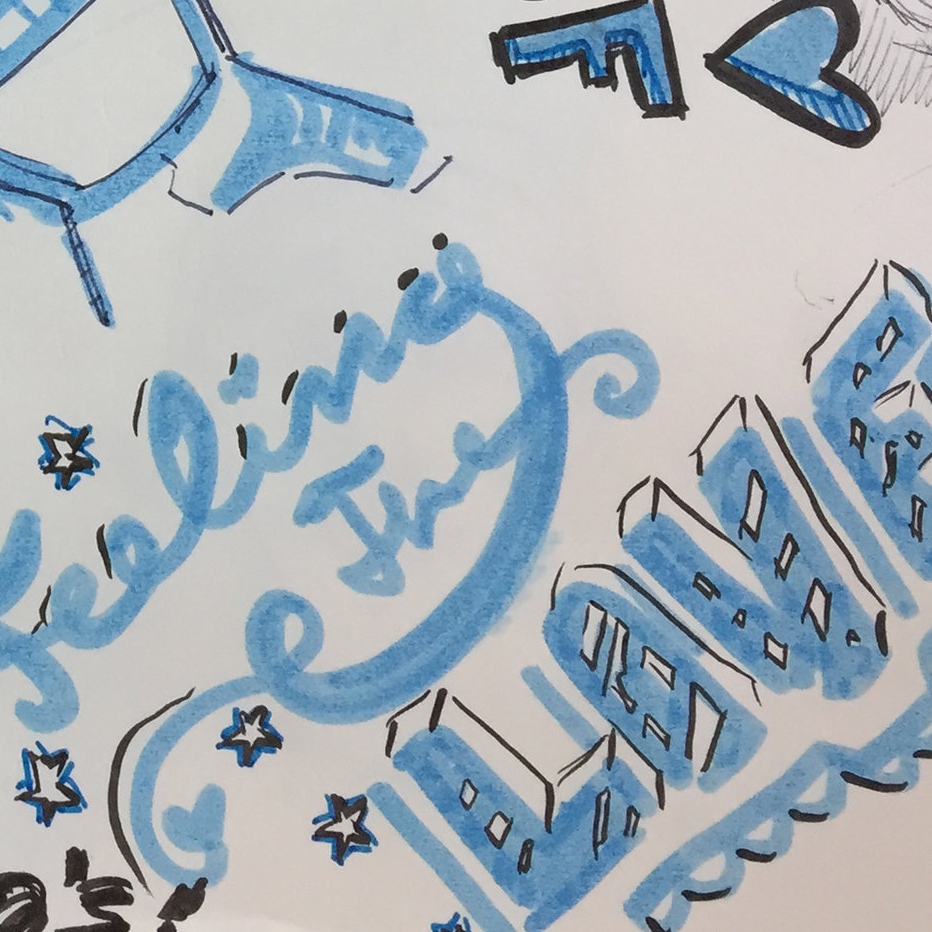 WHERE ARE YOU?

San Francisco, CA
WHAT'D YOU DO TODAY?

Woke up bright and early once again to get to our interview with Erik Marinovich. And man was it worth the hour and a half commute. Thanks to Adam, we got connected with Erik and immediately asked him to be a part of our project. Luckily, even on such short notice, Erik said yes!
The interview was thought provoking, elevating, and overall super fun. Erik is a lettering artist and designer, and co-owns the inspiring website Friends of Type.
From the moment we stepped into his studio, Erik treated us as though we were old friends visiting in town and made us feel very welcome and comfortable in his space.
During the interview itself, so many of the things he said truly resonated with me. He put into words so many emotions I've had this past year that I myself wasn't quite able to word (or even knew existed). I had numerous "ah ha" moments throughout him talking. There were even moments I remember noting to myself: "I have to go back and listen to this part again later today".
After we parted, thanks to Erik's list of suggestions, we went to grab coffee (and talk about how amazing the interview was - something we find ourselves doing after each interview). We continued down Erik's list and went to a beautiful ceramics store right next to Tartine, where we had some cake (coffee cake), and then boogied over to the print store next door. We spent too much time there trying and testing different pens. But let's be real, is there ever enough testing pens time? (the answer is no)
We made our way to the last recommendation: Valencia street. There we had some amazing Indian food and again spent too much time at a bookstore (but as we discussed, there's never really enough time).
We were going to sit down at a coffee shop to get working but there's something weird with this city and not having wifi in coffee shops. Someone please explain.
We departed the city on the meditative hour commute home.
HOW YAH FEELIN?

I've wanted to write about Charlottesville and I don't know where to begin. I am struggling to understand how people like this still exist in the world, especially so close to home. I want to throw up every time I read/hear/think about it.
My love and thoughts go out to the people of Charlottesville and people everywhere who have been effected directly and indirectly.
- Dana

WHERE ARE YOU?

San Francisco, California
WHAT'D YOU DO TODAY?

Made our slow passage into the city for our interview with Erik, who is THE SWEETEST. The interview went so well! Erik's amazing and it was definitely the best I've done at interviewing yet. Erik spoke to everything from such a new lense, with his journey to discover lettering as a career and more importantly being a dad. He said some pretty powerful things today that were great to hear. For one he brought up that all of his favorite artists or designers peaked in their 50s or 60s. Today, it feels like there's all this pressure to be immediately successful out of school, but it totally makes sense that part of life is that hopefully, if all works out, you're one day better or wiser every day. Of course he spoke about so much more and I can't wait to get this interview out! I only hope once we do people will resonate with the words of these amazing people as well as they have for us. So appreciative for Erik taking the time (and for the tshirts, patches, notebooks, postcards and fancy beer…) to talk to us, especially about a pretty personal topic so early in the morning with complete strangers.
Post interview, Erik recommended a plentiful to do list for the area, which was as follows (our experience in parenthesis):
Heath Ceramics
(GORGEOUS OH ME OH MY … also had a lovely collection of books including one full of surf bungalows and their surfers' stories, had me drooling over the beacy vibes)
:) Yummy! Tartine manufactory
(ate the most amazing carrot cake and witness the funky vibes of san fran also employees had the best aprons + one dude was in dirty white coveralls <3)

Aesthetic Union
(COOTE print shop with lots of goods including my dream notebook that can be yours for the small price of $86 and no it was not made of gold but by leprechauns in antarctica)

Play Mountain
(closed :()

Sight Glass Coffee
(good vibes, beautiful espresso machine, beautiful floor, beautiful benches, beautiful shelves, beautiful people, pretty much beautiful, oh and the coffee was good too. Also believe it or not, good company. Good convo + doodle sesh with my gals immediately post interview <3 much love <3)

Valencia St.
(here we found Indian food for lunch, found myself a new book, wandered to a cafe (that didn't have wifi?))

After Valencia we headed home and it took way too long. But I just read and that felt really nice. Just check out for a couple hours.
This evening we fell into a multitude of videos covering the Charlottesville white supremacist rally and the violence that ensued over the course of the weekend. I really just can't wrap my head around it.
HOW YAH FEELIN?

Shocked and confused. Conversely to this morning, I'm having a hard time finding value in this project when there are such bigger problems at hand than people pursuing their passions. Paired with my inadequate lack of political knowledge and action, I feel like we should be spending more time and energy into learning and engaging politically because things like Charlottesville are happening and that's scary.
- sam